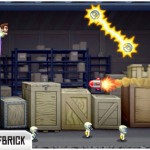 The fine line between a casual game and regular action games is a little blurred with this fine title from halfbrick studios. The premise is basically to ride around in a jetpack and don't die. The length of your journey is tracked in the upper left hand corner of the screen. The farther you go the better. After you die you have an opportunity to purchase items based on how many coins you picked up. I'm not sure if all of the add-ons you buy actually help you in the game, but they are fun to look at while playing. In addition to items, you also get to spin a slot machine for other cool prizes.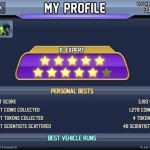 As you progress through the game (which seems odd since it appears you start at the beginning every time), you will get different missions or goals such as "Brush past 15 red flashing lights in one game." When you accomplish these you get stars which go towards your overall rank in the game. For example right now I have 11 stars which indicates I'm an expert.
Playability on this game is awesome and it's highly addictive. Due to the fact you start at the beginning every time it may seem like you're not making progress, but every time you play you continue to add more things, get more points, and complete more missions. The best way to know how addictive and fun this game is, is by playing it right now!

[xrr rating=4/5]