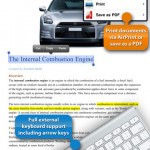 Who needs iCloud and Pages when iPad users have had Quickoffice with dropbox, box.net, evernote, catch, sugarsync, and huddle? Quickoffice could be considered an alternative to Pages, Numbers, and Keynote, however it is far more than that. You can sync your docs, pdf's, powerpoint, pages, excel, numbers files and more, and the price is less with far more flexibility with file management and sharing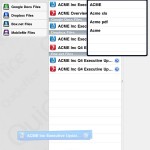 Documents
It is simple to view, edit or create Microsoft Word compatible files with Quickoffice. Once you create a new document you have most of the standard editing tools for creating documents font styles, sizes, typefaces, spacing, and colors. Documents can be searched, printed and more. There is one feature missing and that is the ability to add images to a document, though editing documents with images already in them is possible. Once your file is done you can print the file and even save it as a PDF.
Spreadsheets
The spreadsheet file is a full featured program. There are many different functions that you can use as well as cell formatting and more. I have no problem using spreadsheets to create and edit existing files with complete control over formatting.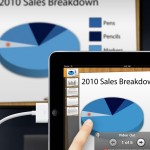 Presentations
Presentations is a great way to create or edit PowerPoint slides as well as send them to a projector for presentations. It is easy to add images from the iPad, edit font types, sizes, properties and more. Easy to use and functional.
File Viewing
The file viewing features of quickoffice are also quite good. You can read text files, web pages, pdf files and more. Quickoffice does not have the ability to edit iWork files, it does have the ability to read them. The PDF viewer (the most common file type) is excellent and renders PDF files exactly as they would appear on your computer.
Sharing
From the file viewer you can also share your documents with others using Twitter, Facebook, Linkedin, yammer, slideshare, docstoc and sribd. You can even use your iPad as an external drive and drag and drop files from OS X Finder/Windows Explorer. Finally you can always email files directly from the program.
Conclusion
Quickoffice has been my go-to application for all common office file edits on the iPad. Hook a bluetooth keyboard up to your iPad and you have most of the critical functionality you would get from your computer.  Quickoffice is excellent, essential app for your iPad. App approved.
[xrr rating=5/5]