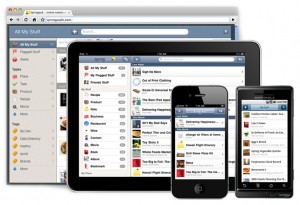 I have been using Springpad for almost a year now and have yet to find a note-taking app that does everything that this app does. Springpad should not be considered a replacement for a to do app or note taking app because it's so much more than that. It's more of a swiss-army-knife. In addition to taking notes springpad allows you to set calendar appointments, create checklists, todos, product inventory, alarms, photos, music, movies, search by barcode, recipes and more. Springpad claims to be more of a personal assistant than anything.
Once you create an item you save it in a notebook. After it is saved, Springpad actively monitors this item by searching the web for events related to the item and alerts you when something of importance related to that item happens. For example if you were to put your favorite band in as an item and they were playing in town, springpad would alert you in advance of the date that they were performing. Here are a couple of more examples:
Music – If you search for an album or song, springpad will save it as a music product and automatically link the item with places online you can purchase it (amazon, itunes, and others). Later when you review the item in springpad you can click the link and it will give you a list with prices of where you can buy it. This works the same way with any product you enter (video games, appliances, electronics, clothing). If the item goes on sale Springpad will alert you.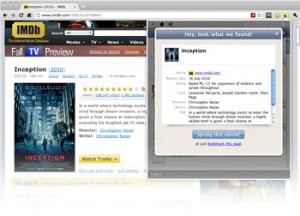 Movies – Searching for a movie, even one that hasn't come out yet will automatically start tracking when the movie is playing, when it comes out on DVD, etc. As you can tell from the left when you clip an item in your web browser to add it to springpad it will know based on the fact you are on imbd.com that you are viewing a movie and add it in as a movie item type.
Since there are so many ways to use springpad the only limitation is your imagination. Items can be organized into different notebooks, tags, or even by type. Springpad could easily be used as an inventory system, a cookbook, a music library and more.
There are a few drawbacks to the app. The first has to do with occasional syncing issues where an item on the ipad doesn't sync back to the iphone, etc. This actually has improved recently, so I have not noticed it as much lately. The speed of the app is a little slow sometimes once you have a considerable database with close to 1000 items or more.
This universal app is highly recommended and certainly deserves our app approved status.
[appext 360116898]
[xrr rating=5/5]