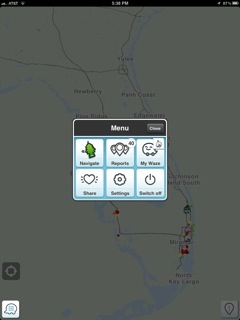 Waze is a driving social network. Coming home from work and wondering if you should take the highway or the back roads? Wouldn't it be nice to call someone driving on the highway right now and ask if the traffic is smooth? Well waze allows you to know all of this immediately while you're driving. If traffic conditions are slow you (if stopped) or your passenger (if moving) can press a couple of buttons and notify everyone on waze the traffic conditions of the road you're on.
Traffic Jams There are three buttons you can use when reporting traffic jams (moderate, heavy, and standstill). You can type details (could be dangerous while driving) or you can actually upload a 10 second voice message and attach it to your alert. There is a lane toggle button to indicate which lane, and a place to upload a picture. This is a fairly comprehensive method to report traffic conditions.
Police Reports In addition to traffic jams you can report police you have spotted. I'm guessing this will not go over well with local law enforcement, but if you plan on speeding I guess this could help you keep your ticket costs down. You can indicate whether they are visible or not.
Hazards, Accidents, Cameras Other reports include hazards, accidents, and traffic cameras. If you are on a road that is not on the map you can actually "pave" a new road while you're driving. Feeling social? Then post a text or voice message on the road you're on and others can chat with you.
Voice Assisted Turn By Turn Navigation One of the nicest things about waze is that it includes free turn by turn voice-assisted navigation. Put in your home and work for quick routes. Look up addresses, bookmarks and more. This is a full-fledged GPS app. I had one issue with it when it was routing me to a restaurant. I passed by the restaurant and it didn't tell me, it kind of just went quiet on me and stopped routing as if I had arrived when I actually had gone past my destination.
Final Thoughts this is a free app that feels like a paid app, especially when you consider the GPS capabilities. I guess at some point Apple will provide free GPS, but even with an existing GPS the social functionality is very useful. It's not perfect, but everything works and as more people use it the better it will get.

[appext 323229106]
[xrr rating=4/5]